Presentation of Proclamation by Hays County
January 31, 2019
Commissioners Court Proclaims January as Crime Stoppers Month in Hays County, Urges Citizens to Share Information
Hays County Courthouse, San Marcos, TX – The Hays County Commissioners Court Tuesday proclaimed January as Crime Stoppers Month and thanked the Hays County Crime Stoppers organization for their help in solving crimes.
Crime Stoppers programs have empowered citizens in Texas to take a stand against crime and reclaim their sense of safety, bringing together law enforcement agencies, citizens, and the media to solve crimes and catch criminals, according to the proclamation issued by the Court.
"Crime Stoppers has existed for 37 years, and we've enjoyed the County's support the whole time – it's a very big part of what we do," Crime Stoppers Board of Directors Chair Rowe Ray told the Court. His words were echoed by Executive Director Don Arledge and Board member Gary Tucker, who also noted that partnering with area law enforcement agencies is also critical to an effective program.
In Texas, Crime Stoppers programs have received 63,000 anonymous tips leading to the arrest of over 3,779 suspects, $1.2 million in rewards paid and over $11 million worth of narcotics seized by law enforcement responding to tips.
Hays County Crime Stoppers to date has facilitated 695 arrests, cleared 831 cases, paid out more than $75,000 for tips, recovered more than $304,000 in property, $12 million in illegal drugs, and recovered more than $12.8 million.
To learn more about Crime Stoppers, including how to submit anonymous tips, visit www.callcrimestoppers.com.
Left to right Hays County Sheriff's Office Capt. Mike Davenport, Capt. Mark Cumberland, Precinct 2 Commissioner Mark Jones, Precinct 1 Commissioner Debbie Gonzales Ingalsbe, Hays County Crime Stoppers Board of Directors Chair Rowe Ray, County Judge Ruben Becerra, Crime Stoppers Executive Director Don Arledge, Board member Gary Tucker, Sheriff Gary Cutler, Precinct 3 Commissioner Lon Shell, and Precinct 4 Commissioner Walt Smith.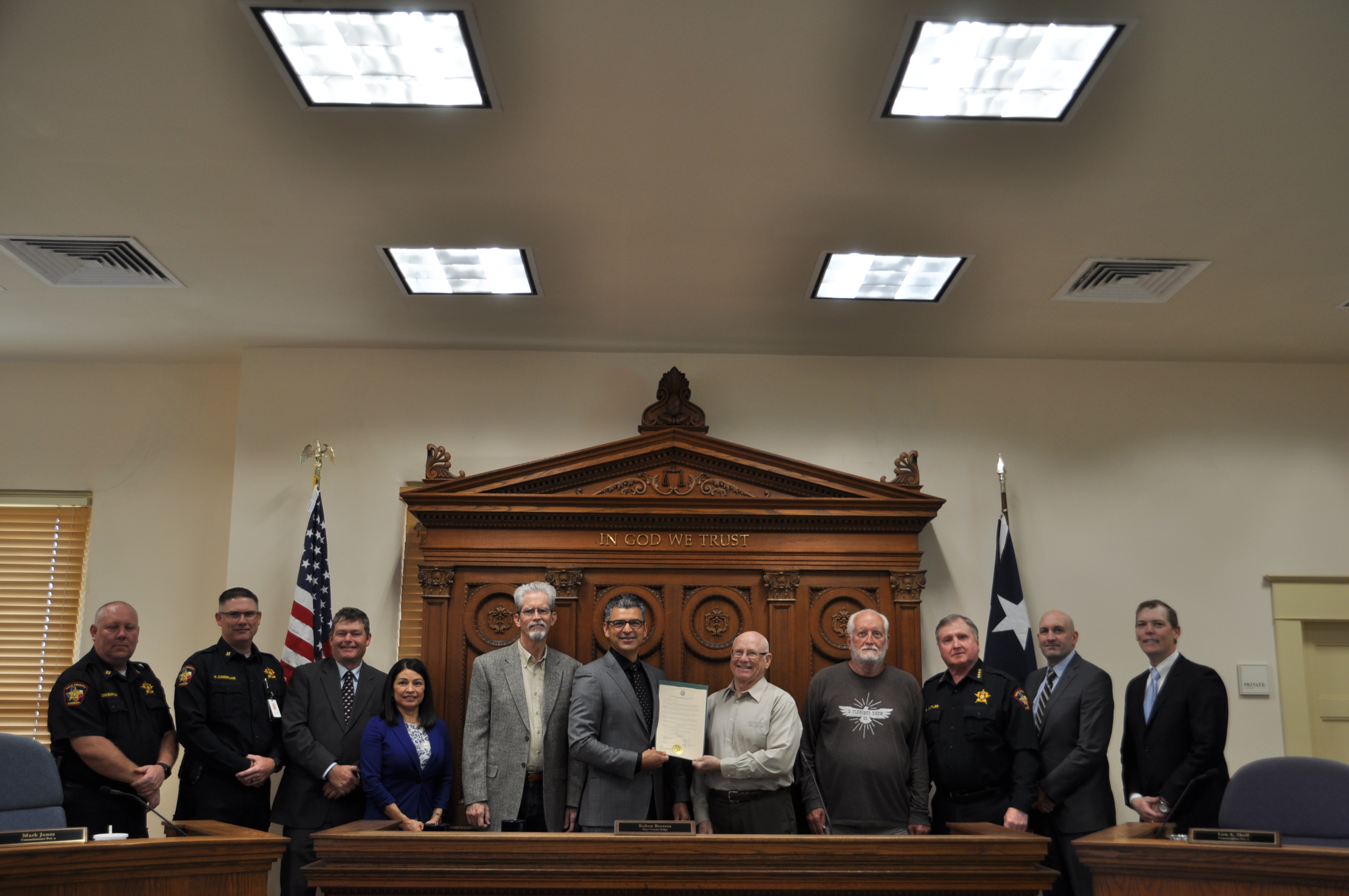 ---
Revision of Mission Statement
September 17, 2018
We recently revised our Mission Statement to be more concise and readable. It is :
To deter crime, allow anonymous reporting, provide monetary rewards and help our community be a safer place to live.
We invite you to check us out. We are doing great things to make us all safer!
---
Healthy Kids Day in Buda
April 22, 2017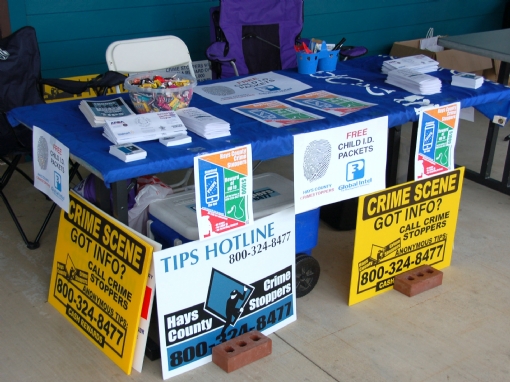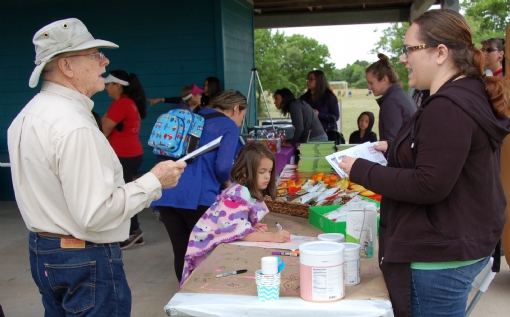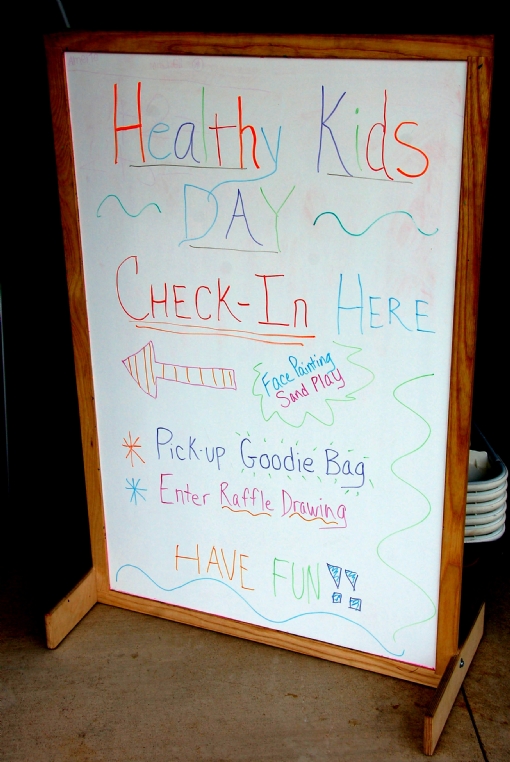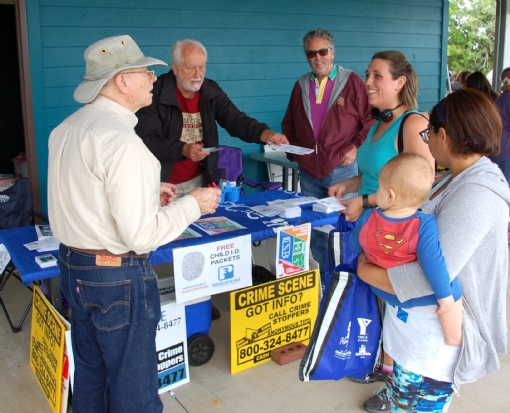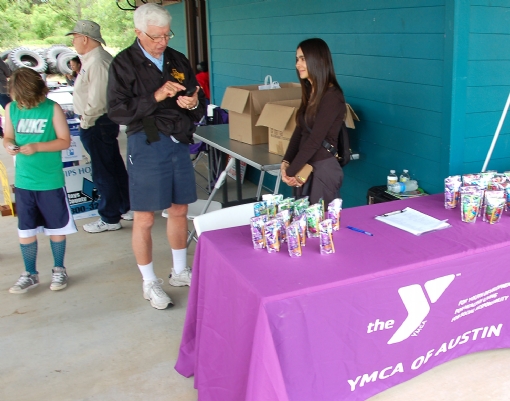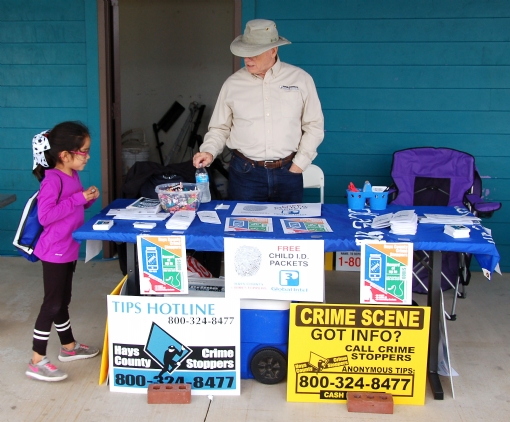 ---
| | | |
| --- | --- | --- |
| Page 2 of 2 | 23 Records | Prev | Next |